La Center School District
Students - Learning - Excellence
LCSD Online Board Workshop
Tuesday, June 9, 2020 at 7pm
5/27/20 Message regarding End of Year and Plans Moving Forward from Dave Holmes, Superintendent
Dear La Center families,
Thank you for your patience, your understanding and your daily efforts to help students continue their learning at home during the statewide closure of school facilities. Having been involved in the education of La Center students for the past 25 years and having a full appreciation of the standards that we've created, I know remote learning is difficult and has many shortcomings. It simply cannot compare to classroom-based learning. I am proud of our teachers, staff, families and students for working so hard to make the best of a challenging situation.
As we near the end of this school year, families are wondering what summer activities and the start of the 2020-21 school year will look like. We are developing plans for a few possible scenarios in La Center. Those plans are dependent on the direction and guidelines provided to us at the state level in Olympia. Our goal and ability to open school in the fall in a traditional manner will be dependent on those guidelines. As the 2020-21 school year is still 3 months away, we know that we will have to prepare for a range of possibilities and follow state public health guidelines for the safety of our students, employees, families and community. We also expect to receive guidelines on fall athletics and extracurricular activities from the Washington Interscholastic Activities Association.
Our plans must be made in collaboration with our staff, parents and community and permitted by the directives of the state. Among the many possible details are bus transportation, social distancing protocols, personal protective equipment, meal services and cleaning and sanitizing procedures. We certainly don't have all of the answers, but we will examine all options that provide our students a safe environment and maximize learning opportunities.
Your responses to our recent survey on remote learning will guide us as we improve our remote learning lessons and expectations. We will refine our practices based on your comments and suggestions as we plan for the next time we may be mandated to provide distance learning. Innovations in remote learning that have worked well this spring will be shared across the district. Teachers and staff will continue to receive training to help them support their students using technology. To this point, we are excited to announce we are working to implement a 1-1 Chromebook program in the fall that will provide every 6-12th grade student with a Chromebook for school use. We believe this will not only reduce the need to carry a number of textbooks to and from school, but also put devices in students' hands that prepare them for the world of work post-graduation.
I am grateful to be working in a school district and community that cares so deeply about young people. Because of our shared interest in meeting the academic and non-academic needs of all students, I am confident that we will overcome the challenges of the next several months and that La Center will be an even better district as a result of this experience.
I will continue to provide updates as we learn more about plans for summer and fall. Meanwhile, please stay safe and healthy.
Sincerely,
Dave Holmes
Superintendent,
La Center School
LCHS Grading Guidelines (4/28/20)
La Center High School Grading Guidelines (Updated: 4/28/2020)
2020 COVID-19 Emergency Closure
Due to the emergency closure of schools by Governor Inslee, high school students and middle school students earning high school credits will have two options for how second semester grades will appear on their official transcript for the 2019-2020 school year.
Letter Grade (A through D)
Students will receive a traditional letter grade on their transcript.

Letter grades continue to impact cumulative GPAs.

This grade will come from the following three options,

whichever is better.

Once the student completes and demonstrates understanding of content and approved by the classroom teacher, the student's grade as of March 17th or better will be recorded.

The student's grade at the end of second semester, which is June 19th for students in grades 9-11, and earlier for 12th grade. The seniors last date has yet to be determined but will likely be June 12th.  Students are expected to continue their learning until the end of the school year.

The grade will stand when the student has completed the standards of each class.  This will be shown with the appropriate student work demonstrating understanding of content and approved by the classroom teacher.
This option will be applied for students who have an "F" at the end of second semester.

The incomplete will apply to students not completing the learning objectives required by their classroom teachers. Students must continue their learning to the end of the school year.

The incomplete remains on the student's transcript and can be changed to a letter grade when the course has been completed at some point during their high school years. There are several options for completion (such as retake course, test out, credit recovery, etc.)  Those plans will be developed on an individual student-by-student basis.

Incomplete grades do NOT impact cumulative GPAs positively or negatively. However it is important to note, the student will  NOT receive credit for this class until the Incomplete is resolved.
Seniors, you must also complete all of the graduation requirements which include your Student Led Conference.  Please contact your teacher and/or counselor if you are having difficulties to meet this requirement.  
Please contact me if you have any questions.
Sincerely,
Carol Patton, LCHS Principal
LCHS Grading Update (4/22/20)
LCHS Grading Update 4/22/20
State Superintendent of Public Instruction Chris Reykdal announced new rules that Washington state teachers must follow when determining grades for high school course credit.  
The new rules stipulate the following:
March 17 is the starting point for the new grading system.

A student's baseline letter grade is the letter grade earned by March 17.

All students will have the opportunity to improve their baseline letter grades. The final letter grade will not be lower than the baseline letter grade.

Teachers will assign A, B, C, or D letter grades or assign an "incomplete".

Students assigned an "incomplete" for a course will be given opportunities to re-engage and meet the learning standards.

An "F" may not be given as a letter grade. If a student's baseline letter grade was an "F" and has not been improved through remote learning, the student may receive a "D" or an "incomplete".

Students may work to improve a letter grade until August 31. On that date, a letter grade will be entered into the official transcript. That letter grade will be no less than the baseline grade of March 17 and will be consistent with the rules prohibiting the use of certain grading marks outlined by OSPI rules issued April 21.

The following marks are not allowed: credit/no credit, pass/fail.
Under OSPI's rulemaking authority, Superintendent Reykdal issued an OSPI Emergency COVID 19 
grading practices bulletin
 outlining a framework and key principles for student learning and grading throughout the remainder of the school facilities closure. The framework enhances statewide consistency while maintaining local flexibility.  

Thank you,
Carol Patton
4/20/20 Message regarding student engagement in Lessons from Dave Holmes, Superintendent
Grade 6-12 Students, Parents and Guardians,
Students: 
As I write to you today at the beginning of our 3rd week of Modified distance learning, I'm hearing from a number of our teachers that some students are not engaged in the learning opportunities that are being created. As you know from previous emails from the high school, we will be providing letter grades for the work that is completed by students and evaluated by your teacher. At the middle school, we will be issuing pass/fail grades for 4th quarter. Passing grades will only be issued if students are regularly engaged in the work and submitting their best effort that meets a 60% grading evaluation by your teacher. This makes it vitally important that all of you engage in the work to the best of your ability. 
I also understand that there is a rumor among some students, that your grade cannot be affected regardless of the effort you apply. This is being connected to a statement the Governor made saying districts are to "due no harm" to student grades during the closure. This is a true statement in reference to not impacting a particular student's grades if they are not able to access the learning opportunities in an equitable manner. The school is and will work with every student to provide access to learning material and lessons. Regardless of the level of access you may have, it does not relieve you from the obligation to engage, show effort and continue the learning process for the remainder of the school year. In other words, YOU can do harm to your grades if you do not engage with the learning.
I know that many of you may struggle with access to technology, but your teachers are able and willing to provide paper copies of the work and have them delivered to your home.  We have already distributed thousands of packets since the beginning of the closure. What is vitally important is for students to communicate with their teachers on a regular basis. You should ask for any help necessary for you to engage in the learning opportunities provided. We will work just as hard on our end to provide you with what you need as we expect you to work at learning.
In closing, we look forward to seeing all of you when this all ends and hope that you will work hard, stay healthy and keep communicating with your teachers!
Dave Holmes, 
Superintendent, La Center School District
4/7/20 School Closure for the Remainder of the Year
April 7, 2020
Subject: Schools Closed for the Remainder of 2019-2020 School Year
Dear Families,
As you may have heard, Governor Inslee has made the decision to close schools for the remainder of the 2019-20 school year. This closure is an effort to slow the spread of COVID-19 and keep our community safe and healthy. During this closure extension, all schools in the district will remain closed.
We understand that the continued closure of schools presents many challenges for students and families. It also raises many questions. The information outlined below is what we know now. We will continue to share further guidance as decisions are made and as information becomes available.
Distance Learning: Distance learning will continue through the remainder of the school year. We know families have many questions about how this extended closure will affect every area of K-12 education, including students' grades and GPAs, diplomas and graduations, and students' overall learning progress. We are working hard to develop and share information that addresses those questions based on guidance from the Office of the Superintendent of Public Instruction. We will share updates as soon as we have them and decisions are made based on that
Technology: If your child needs a chrome book, you may request one by going to this link on our home page and filling out the form. You will then be contacted by our technology
Nutrition Services: We will continue to provide meals to students weekdays 11:30- 1:00 pm outside the middle school
High School Seniors: High school seniors will receive support from teachers, counselors and administrators on opportunities to earn credits needed for graduation and postsecondary transitions. We will be working closely with the state's college system to ensure smooth transitions to the student's next educational
Graduation Ceremonies: In-person graduation ceremonies may change to virtual ceremonies and/or may be A final decision related to graduation ceremonies will be shared by May 6th.
School Activities: All school events, including sporting practices and matches, field trips, dances, will be canceled during the extended school closure. We will be engaging with students to come up with creative alternatives to celebrate historically significant milestones. In some cases, special events may be postponed until summer. We will keep students and families updated on these decisions so that you can plan your participation in advance.
Summer School: We are awaiting information from Governor Inslee on whether school facilities will be open to provide any type of school over the
Personal items, text and workbooks: Each school will be making arrangements for students and families to collect personal items from lockers and desks along with obtaining needed text and workbooks. This information will be shared and arrangements made in the next few
More information can be found on the district website. If you have questions, you may reach out to your building principal or the district office. Please continue to take good care of yourselves and your families. This is a difficult time for all of us, but we will get through it together.
Sincerely,
Dave Holmes, Superintendent La Center School District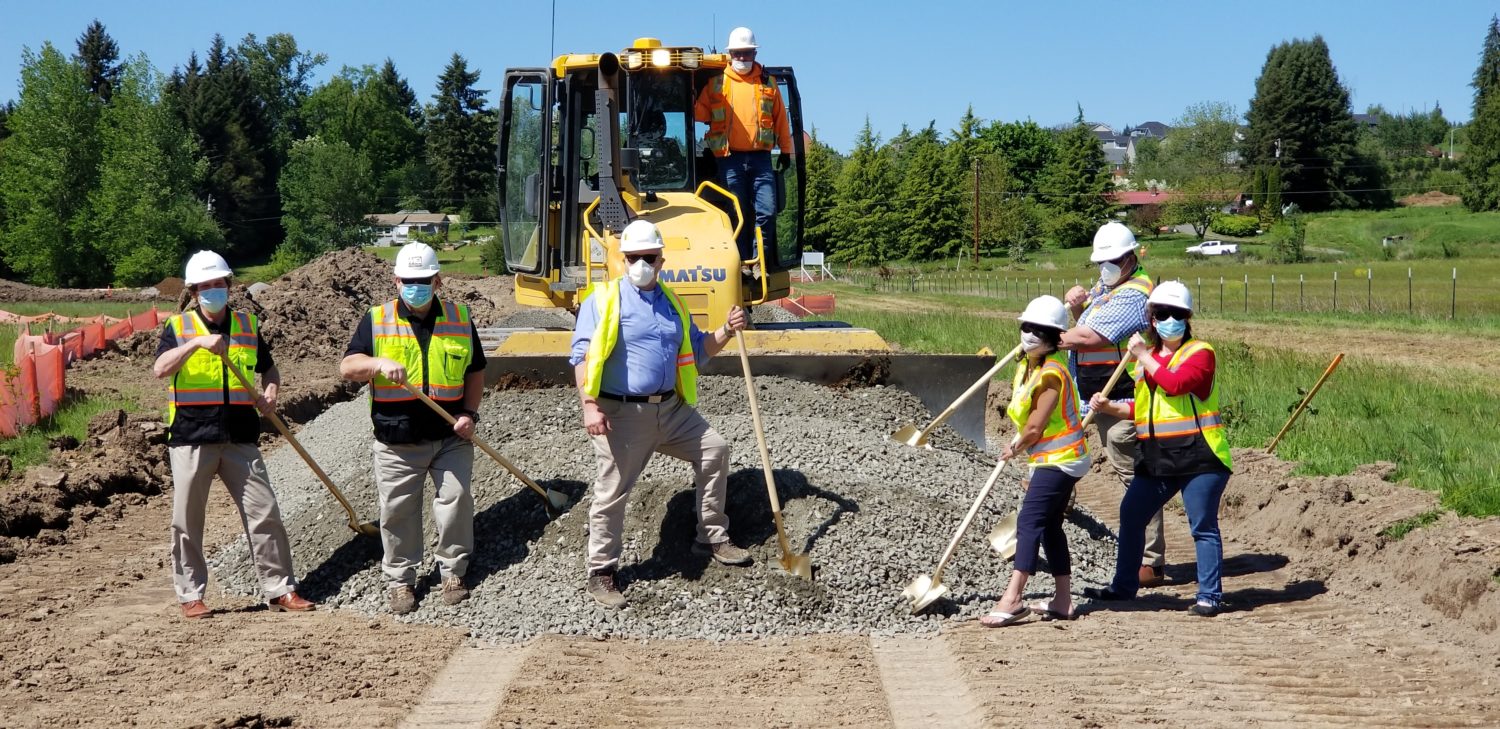 La Center Middle School Groundbreaking Ceremony
On Thursday May 7th, the La Center School Board, Robinson Construction, ESD112 Construction Services and Superintendent Dave Holmes held a small, private groundbreaking event at the new Middle School. Due to the COVID outbreak, we were unable to make this ceremony open to the public, but we hope to be able to celebrate properly when the school is finished.
It has been a long road getting the building started and we are thrilled to see that the wait is over and construction has begun.
Thank you to the people of La Center for your role in passing the bond that made this new middle school possible! As with so many things, we couldn't do it without your help!
COVID-19/Coronavirus Information
School will be closed for the remainder of the school year at the direction of the Governor.
LCSD Fiscal Corner

2018-19 BUDGET/CONTRACT LINKS
2019-20 BUDGET
CURRENT CONTRACTS
I want to...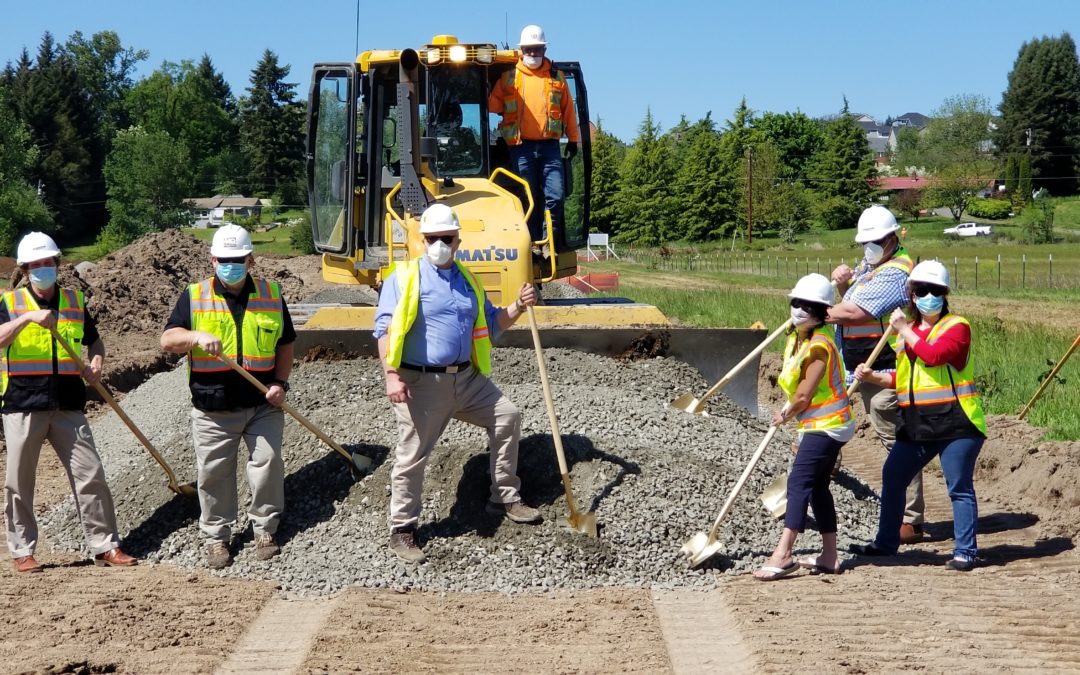 On Thursday May 7th, the La Center School Board, Robinson Construction, ESD112 Construction Services and Superintendent Dave Holmes held a small, private groundbreaking event at the new Middle School. Due to the COVID outbreak, we were unable to make this ceremony...
read more